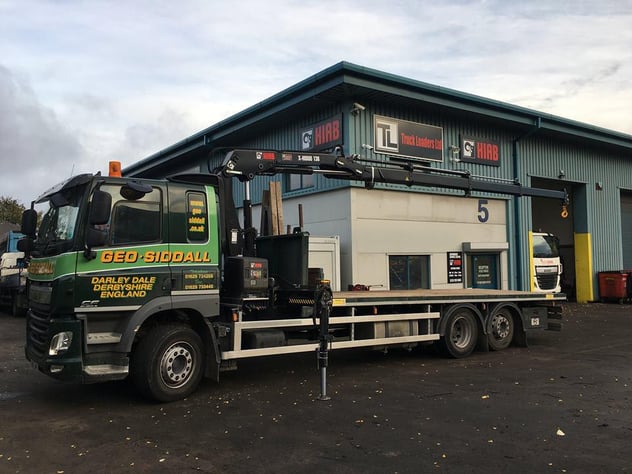 We carried out an interesting HIAB Crane modification last month for our client GEO SIDDALL, of Darley Dale, Derbyshire. We had supplied & fitted a truck mounted HIAB X-138 HIDUO a couple of months earlier but now due to a new contract they wanted to modify the new crane from the supplied 2 extension model to a 4 extension one for some extra extension capacity.
The HIDUO is a powerful machine, even in its non-modified state. It is an extremely versatile mid-range crane with a 12.9 m maximum reach and the capacity to lift heavy loads even at full extension. Its high tensile structural steel body gives it an excellent low weight to high lift capacity – weighing in at only 1960 kg.
We used HIAB extension sales kits to fit two extra extensions to the crane. As you can see from the images below, its reach has been significantly increased, with no compromise to the crane's lifting capacity or the stability of the truck. The modified crane can be operated manually, or through on-board remote control.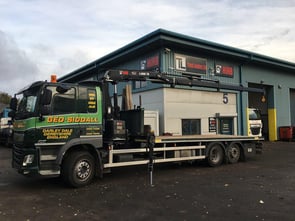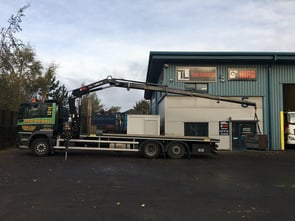 Visit Our Facebook Page
Details of case studies such as this can be found on our Truck Loaders Facebook page, which we keep up-to-date with interesting jobs, special offers and updates from HIAB, as well as announcements whenever we publish a blog post.
Custom Modifications For All HIAB Crane Models
Why invest in a new machine when you can modify your existing kit for a fraction of the price? If you have a HIAB crane and are interested in improving or expanding its capacities, get in touch for a chat and a free quote. Serving customers throughout the East Midlands, we have one of the best qualified HIAB teams in the country, employing two diagnostic engineers alongside other HIAB specialists. Using only official HIAB parts, we can create custom modification solutions for all models of HIAB crane to meet your requirements, as well as providing a wide range of maintenance, testing and repair services.