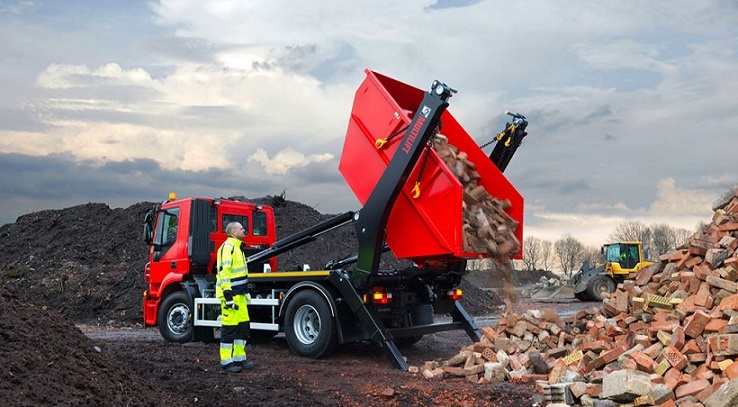 The MULTILIFT Futura skip loader brings traditional HIAB engineering excellence and functionality to the world of skips and skip loading.

You can see more detail and watch the video here on the HIAB website.
SafetyPlus MULTILIFT Features
The design strives to eliminate as many skip handling risks as possible. Innovations have been built in including:
Precise controls combined with safety interlocks
Rated lashing points
Hydraulic side stops
Hydraulic rear lock
Manually adjustable and locked container side and front stops
Pneumatic safety latch for tipping hook
SwanNeck Design Reaches Further
This innovative design feature is a mathematically computed curve in the lifting arms. Added to the extra-long telescopic extensions, it means much greater reach. It's now possible to lift skips from the other side of a fence, for example, or from an unaligned angle. Stability remains rock solid throughout the operation.
SkipTop Feature On The Futura12 Model
This is a built-in skip cover that can be triggered on or off through the remote control unit. It's both an added safety feature (no need to clamber up to pull on protective betting) and an efficiency aid because it's fast. It also adds an extra layer of safety. SkipTop is a bolt-on optional extra.
FlexControl Progressive Controls Feature
Now you can pick just the control features that you want, knowing that any additional future requirements can be retrofitted when the need arises. You may even choose any or all of external controls, in-cab or radio remote controls. The options include:
PLC control system with CAN bus interface
In-cab, radio, outside controls or combo
Dynamic on-board weighing system
Two-speed comfort drive for main arms
Fast-speed offload with safety interlock
Smart-drive for telescopic arms and stabiliser legs
EvoLight Means You Can Carry More
This new lightweight steel construction means less net weight so you can carry anywhere between 300kg to 500kg more load legally. It also reduces fuel consumption and reduces CO2 emissions.
Lightweight, high-strength steel construction
Optimised cylinders
300-500 kg more legal payload
Steel castings to strengthen and streamline construction
Real Health & Safety Benefits
The UK HSE has a web page dedicated to safe usage of skips. "Workplace transport accidents are one of the most common causes of serious accidents and fatalities in the waste management industry. Significant among them are accidents that relate to transport related lifting operations . . typically involving hoists fitted to refuse collection vehicles, lifting equipment fitted to skip loaders, lifting equipment on hookloader vehicles, skips and other containers." This is not helped by the facts that there are no standards for skip design and manufacture.
The MULTILIFT Futura remote control skip loader is designed with safety first and foremost, from its extendable stabilisers useful when tipping the skip contents, even inert materials such as soil, rocks, and general rubble.
"Runaway" Skip Loaded Incidents
Where a stabiliser raises the rear wheels of the surface, the rear wheel brakes become ineffective. The result can be a "runaway" skip truck when it happens on a slope. This can be remedied through correct sub frame design and MULTILIFT Futura skip loader mechanisms do not permit it to happen in the first place.
Find Out More
Contact TruckLoaders today and find out how the MULTILIFT Futura range from HIAB can add a competitive edge to your skip hire and haulage.