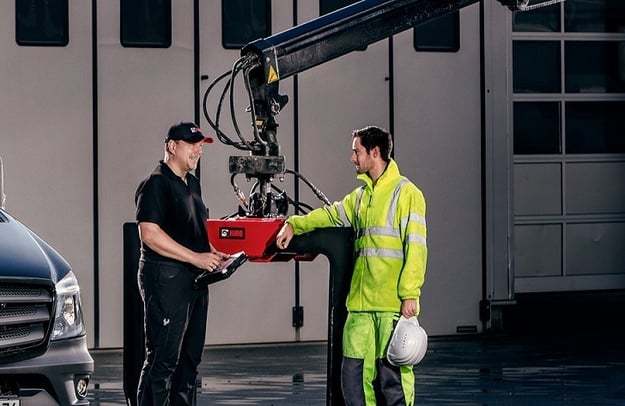 You made a significant investment in acquiring your HIAB equipment. To obtain the optimum return, you want it to be well looked after by a trustworthy repair service whom you trust to do what they say and not cut corners. Safety is a very important consideration and you need the assurance that your repair service also has that as a top priority when servicing and repairing your HIABs.
You will want to satisfy yourself that their call out charges and labour rates are acceptable, of course, but digging a little deeper may pay dividends. As with any company that wants your business, you should carry out some basic checks that only take a few minutes. At worst, these will red flag the cowboys but hopefully it will leave you with the pleasant task of choosing an excellent service from a shortlist that appears to tick all the boxes. Ideally you will find a company with whom you will develop a long and lasting relationship because they are the best type of business partner.
Do They Use Original HIAB Parts?
Only parts manufactured by HIAB are guaranteed to keep your equipment operating in tip top condition and operating at peak performance. It is commonplace for repair companies to claim that there is no difference between the parts they supply and original HAIB parts. That can never be the case and you have no way of knowing what aspects of quality control, testing and top class engineering have been skimped on in exchange for lower prices.
What Is Their Warranty On Parts & Labour?
An obvious question but be sure to ask and also find out if there are any exclusions.
Ask Around For Word Of Mouth Recommendations
There is nothing like a satisfied customer's genuine testimonial to instill confidence regarding a service provider's capabilities, and there is nobody happier to moan and complain than a disgruntled customer. You probably have contacts in other businesses that use HIABs so just ask what repair service they use and why.
Can They Supply References That You Can Check?
A reputable service provider should be ready and willing to share the contact details of two or three customers. Be sure to follow up with a phone call to them. The degree of enthusiasm (or lack of it) that they express about the repair service will be telling. Ask if the same staff have been with the repairer for some time. A high turnover can sometimes be indicative of underlying problems.
How Quickly Can They Come To You?
Equipment faults can sometimes mean that the truck may not be drivable to the repair depot and you need them to come to you. What is the mean waiting time and what is the maximum they can guarantee? What radius do they cover and is that adequate for the majority of your operations? In addition, you may want to carry out servicing on a number of trucks at your premises in one batch rather than have to take them to the repair depot. Ensure that the service includes satisfactory options that meet your requirements.
What Certifications Do They Carry?
For example, ask if they are ALLMI members, which would mean that they operate to that code of practice. If not, find out what standards they do apply. Can they perform Health & Safety LOLER checks if they are a member of ALLMI their engineer should be ALLMI certificated to carry out LOLER Thorough examinations, ask to see the certificates? Also, remember that a badge on a website does not necessarily mean anything.
Choose The Best HIAB Repair Company In The East Midlands
Our Truck Loaders reputation for the highest quality service across the East Midlands is unrivalled. We will certainly pass all the above tests with flying colours. We have built our reputation on going the extra mile to ensure our customers are satisfied and that their equipment meets all safety requirements. Call us on 0330 999 0003 to discuss your requirements.
For more free information about repairs and fault diagnosis, please download our free eBook: The Guide To HIAB Fault Codes.