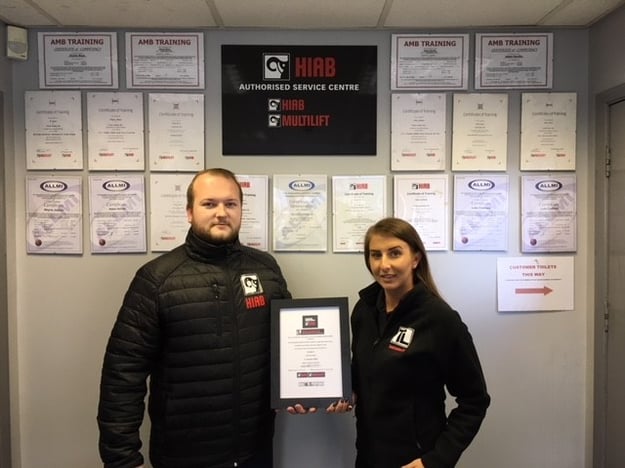 We are very happy to have been recently awarded 'A' Grade Authorised Service Centre status by HIAB. At Truck Loaders we are the leading HIAB specialists in the East Midlands, and a nationwide supplier of crane parts and HIAB spares and 1 of only 9 "A" Grade ASC,s in the whole of the UK & Ireland. We have been a HIAB authorised service centre for many years, providing servicing, spares, repairs, LOLER testing and custom modifications for a wide range of HIAB cranes and Multilifts.
Becoming a "A" Grade Authorised Service Centre is a further sign of our positive business relationship with HIAB, and the qualifications and experience of our team.
What This Means For You
HIAB Authorised Service Centres are direct representatives of the HIAB brand, so have to meet strict targets on quality, service delivery, cost competitiveness and innovation, abbreviated to QDCI. HIAB's network of ASC,s enable the manufacturer to sustain their reputation for excellent customer service and high performance machinery. More than this, however, HIAB ACS,s are closely involved in new product development and feedback, giving us a trusted voice in improving the performance of subsequent generations of HIAB equipment.
This broad base of supply input gives HIAB access to a huge resource of practical expertise, which is one of the reasons why HIAB cranes are so adaptable and responsive to changing market needs.
It also means that Truck Loaders are a team you can trust: one of the very best places you can turn to for accredited HIAB repairs and parts. HIAB sets a high benchmark for its official suppliers and does not hand out Grade A status lightly.
To become Grade A HIAB suppliers, we had to demonstrate:
An aspiration towards zero defects in service quality
Reliable, 1st Fix Service, with the correct parts in the right quantities in stock
A service strategy that aims to reduce customer downtime, cost and increase the value of the service we provide
Early adoption of new technologies and HIAB products, and constructive technical input into improvement projects with other suppliers.
A Reliable Partner For HIAB Spares, Servicing & Repairs
For a wide range of specialist HIAB services at affordable prices, get in touch with one of our team today. We offer approved HIAB spares, employ a team of highly skilled HIAB accredited engineers, and are equipped to work on all models of crane, hook loader and skip loader. Call 0330 999 0003 for further details, or send an email to service@truckloaders.co.uk.
View our HIAB certificate here.