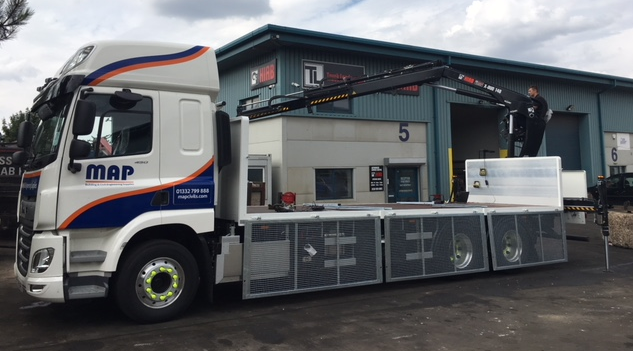 We have completed another HIAB supply and fit project. This was for MAP Building & Civil Engineering Supplies for a brand new wagon and drag combination. The X-DUO 148B-2 Crane supplied came with the high seat option and manual joystick controls – a perfect choice for a wagon & drag operation.
The Hiab X-DUO 148B-2 Crane
HIAB describe their X-DUO range as a mid-range crane and a good all-around workhorse. See the 148B-2 version on the HIAB website or download the product brochure and the technical information. This loader crane range benefits from hydraulic extensions with second boom being foldable beside the column (other medium and heavier versions of this model can have a jib for even longer outreach).
Constructed of high tensile steel to handle heavier than expected loads, it has HIAB's nDurance finish to add extra protection from environmental conditions and extend its life.
Spec sheet highlights:
Control System - HIAB Duo manual control system (as opposed to remote control from a distance). HIAB control systems enable simultaneous movements. The standard DUO control system has identical controls on both sides of the vehicle and also has overload protection.
Hydraulic Extension Outreach - 8.4 m
Manual Extension Outreach - 10 m
Weight - 1550 kg
Warranty Period - 2 yrs which is now the standard HIAB warranty as we described earlier
Finish - nDurance pre-treatment and paint process
High Seat – optional extra is included in the model fitted here
About The Client
Independent builders' merchant MAP Building & Civil Engineering Supplies Ltd operate from Stanton by Dale, Ilkeston since 2003. They specialise in heavyside supplies and their attention to customer requirements and service has grown the business steadily to now generate over £10 million annual turnover.
They own their own ever-growing fleet, which matches the profile of a heavyside supplier with 8 trucks (6 x 26 tonne trucks and 2 x 44 tonne) – each one of them is fitted with a crane and brick grab. That is in addition to a fleet of smaller delivery vehicles for sites too inaccessible for the bigger vehicles and smaller, lighter deliveries.
This lorry is their first brand new purchase so the HIAB is also their first brand new one. A confident investment on both counts.
Truck Loaders Fit & Customise Cranes
Not only can we install HIAB and other crane equipment but our highly qualified engineers can also carry out customisations on request. For example, we customised a truck mounted HIAB X-138 HIDUO some time ago to enhance the original 2 extension model to a 4 extension one to add extra outreach capacity.
HIAB Servicing
Truck Loaders cover the East Midlands from a base in Sutton-in-Ashfield. As a HIAB Authorised Service Centre with ISO 9001 certification, we provide a superior level of quality and customer service. Many of our customers enjoy one of our service packages but we are also pleased to assist with ad-hoc repairs and maintenance when required. Our coverage includes Derbyshire, Nottinghamshire, Lincolnshire and surrounding areas such as north Cambridgeshire.
HIAB Spare Parts
We carry an extensive stick of original spare parts and we can obtain anything not in stock within 24 hours. Free overnight delivery ensures you get the parts you need as fast as possible. Get in touch for further details.