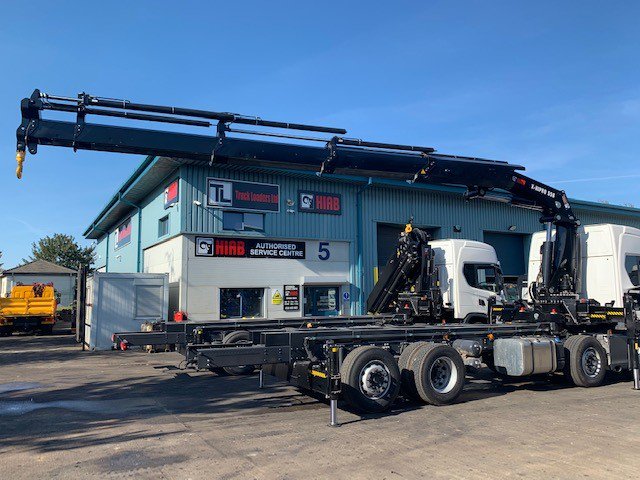 This month marks an important milestone for Truck Loaders Ltd – 15 years since Wayne and I resigned from our previous employment and set up our own lorry loader business. We'd like to take this opportunity to extend our thanks to all the engineers, customers, and the guys at HIAB, who have helped us on our journey so far. We're looking forward to the next 15 years!

What's Changed?
A lot has changed since we started out in 2004, give or take one or two more grey hairs. We started off working out of two leased vans and a small industrial unit. Our focus back then was servicing, testing and repairs for lorry loading cranes – which is still a core part of our work – although we've now expanded to offer everything from the supply and installation of new equipment, to on-site and in-workshop servicing, spare parts supply, and a full range of accessories, including brick grabs and clamshell buckets.
After a couple of years we hired our first engineer and shortly afterwards began to grow the team, leading us to acquire a new-build workshop and office at our current location in April 2007. We are still there today, although we've continued to grow and expand our facilities. In 2015, for instance, we installed a 5000 kg overhead crane to assist with heavy-duty installations and repairs, making our workshop suitable to install and maintain even the largest truck-mounted cranes.

Supplier Relationships
Our relationship with HIAB began in November 2007, when we were approached by HIAB UK to become an official service centre for them in the East Midlands. Our partnership has gone from strength to strength in the years since, gradually increasing our expertise and range of services from a HIAB Authorised Service Centre 'Grade C', to 'Grade A' status – awarded in January 2018.
We now employ six HIAB trained engineers, of whom two are accredited to Diagnostic Engineer level – the highest grade of HIAB certification. In addition to our partnership with HIAB, we are also official suppliers and maintenance partners for Kinshofer, authorised by the manufacturer to supply their full range of market leading crane and excavator attachments and accessories.

Looking To The Future
Our plans for the future are the same as they were 15 years ago: our prime objective being to keep our customers on the road and to strive to be the best lorry loader company in the UK! This leaves plenty of room for expansion, and we are committed to continually strengthen our range of services and speed of delivery, while offering unbeatable value for money. For this reason, we've been ISO 9001-accredited since 2011, and in 2018 we successfully upgraded to ISO 9001:2015 status.
If you're looking for a professional and well-established service centre for lorry loader supply, repair and maintenance, get in touch with Truck Loaders today. We combine the best range of parts, with up-to-date training, extensive experience and friendly, personal service – to make us the best source for lorry loading services in the East Midlands.
To find out more, please call 0330 999 0003, or email service@truckloaders.co.uk today.