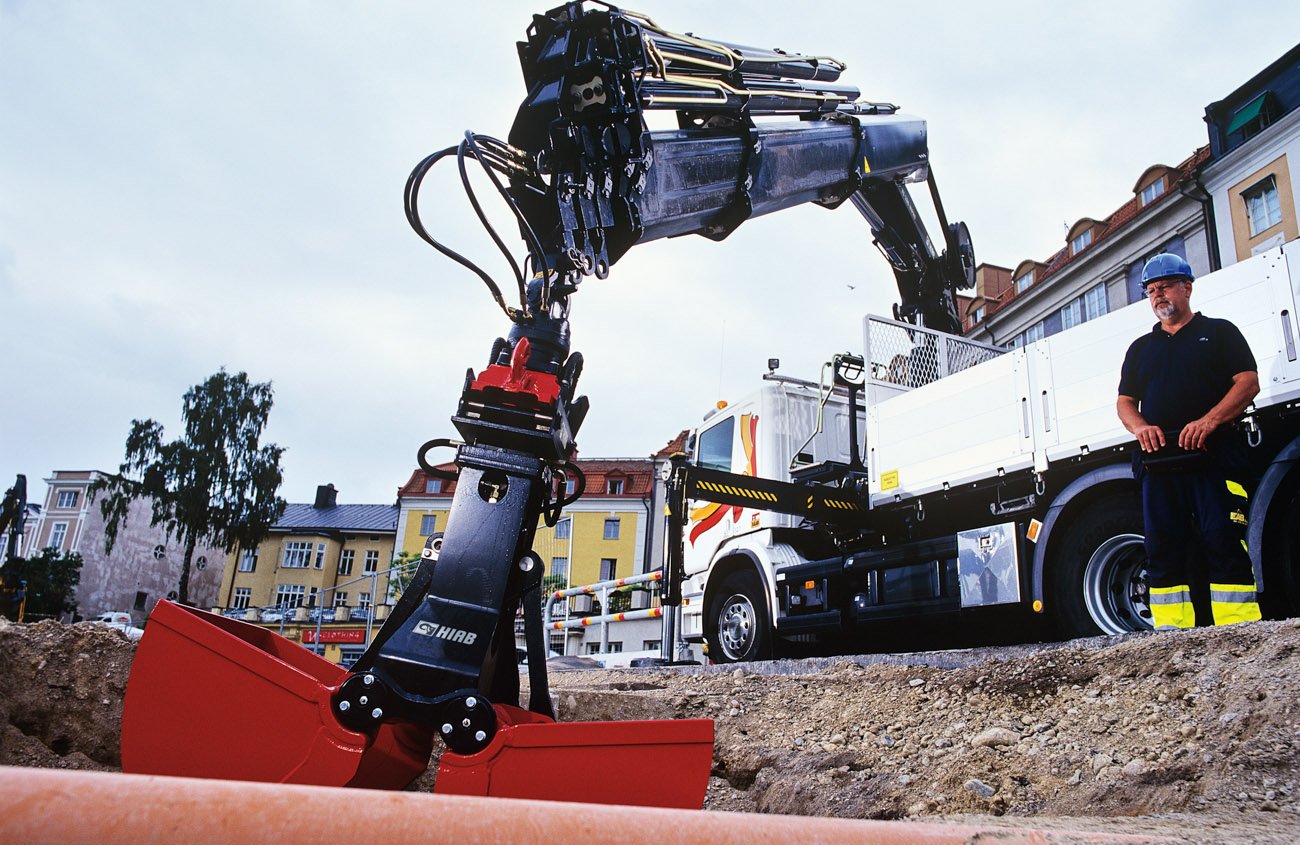 One of the reasons that HIAB are market leaders for truck loading cranes is how versatile they are. There are many different models of HIAB suitable for different purposes, and even an XS product that enables you to design a crane to meet your exact specifications – something no other leading crane manufacturer offers at present.
As well as this, the function of each HIAB can be expanded and modified by adding different tools and accessories. This increases the scope and value of your HIAB and avoids the need to invest in multiple pieces of machinery.
Here are four HIAB accessories many of our customers have found useful:

1) HIAB ToolXChanger
HIAB isn't the only manufacturer that offers interchangeable accessories, but it is the only one that makes the process easy. HIAB's tool attachment accessory – the ToolXChanger – allows you to change over crane accessories in less than a minute. As the ToolXChanger uses only one rotator, you won't need a separate rotator for each tool attachment, reducing the cost of ownership. Furthermore, the accessory comes with an automatic hose attachment, avoiding the need for manual connections and saving a considerable amount of time.

2) HIAB Weighing System
HIAB has a range of wireless weighing systems which can be expanded to match the needs of your business. These are excellent accessories for anyone who needs to move loads and keep track of weight, whether building merchants or contractors. Each weighing system can be calibrated to give a quick estimated weight reading, or a more accurate gauge if required. An easy attach weighing hook is also available.

3) HIAB Rotators
HIAB offers a series of durable rotation tools that can handle loads of between three and six tonnes. The tool allows for reliable rotation and precise movements, even when handling heavy or bulky loads. Gear type and vane type rotators are both available. Gear type rotators give a greater degree of precision, while vane type rotators provide a wider degree of movement.

4) HIAB Pallet Forks
HIAB's pallet fork attachment makes it easy to handle palletised loads of any weight. There are three types of pallet fork, designed to handle loads of different sizes and flexibility. Each adapts the centre of gravity to match the load being handled, so that a variety of soft and hard loads can be quickly manipulated while maintaining stability in your truck bed. HIAB pallet forks are compatible with rotation tools and various hydraulic connections, and some can simply be hooked onto the crane structure.

Find Out More
Truckloaders Ltd is the East Midlands' leading HIAB-approved supplier of HIAB spares, maintenance and repair services. To check availability or to report a fault, please call 0330 999 0003.
Image Source: www.hiab.com